Description
Cosplay wig Sucrose Style
80cm green wig made of synthetic hair with a long multi-colored braid
The hair fiber (Henlon Hair) is heat-resistant up to a maximum of 280 ° . 70 ° - 80 ° C are sufficient for hairdressing and Styling
the wig hood is adjustable in size and fits up to a head circumference of 60cm or less
the hairstyle is finished - all you need is a little hairspray to bring the strands into the desired shape. The bangs may have to be cut a bit
Color numbers: S59 Seafoam, S61 Drewdrop und V73 Wakame
The wig can be stored in the bag it comes in. However, if you want to display them in your room or continue hairdressing, we recommend buying a styrofoam head or a wig stand.
The wig is washed with wig shampoo: just put some lukewarm water in the sink, add a dollop of shampoo and let the previously brushed wig soak in the water for a few minutes. Rinse with clean water and let the wig dry on a towel or over a wig stand. If you want to do something good for your wig, you can repeat the washing process with the wig balm, but without washing it off with clear water at the end.
Washing does not loosen any knots from the wig! To get your wig free of knots again, spray the dry hair of your wig with wig conditioner (optionally Wig Wonder), wait a short time and then patience the wig from bottom to top. Curly wigs also need to be brushed this way. The curls don't come out. After brushing, you can bring the curly strands back into shape individually by twisting them briefly with your finger.
Long hair wigs in particular tend to become matted at the nape of the neck and at the ends of the hair. Too frequent and too hard brushing of the hair can also make the synthetic hair frizzy. You can get the synthetic hair smooth again by blow-drying the cracked areas with your hairdryer. The heat of the blow dryer ensures that the hair is straightened.
To keep the wig on your head, pull a wig cap or a hairnet under the wig. Attention: the net in which the wig is packed on delivery is only used to protect the wig during transport and does not replace a real wig cap for your head.
With our wig starter set you are perfectly equipped.
additional wig products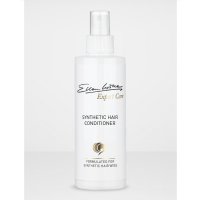 Wig Conditioner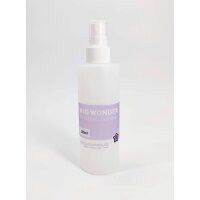 Wig Wonder - Conditioner